During the french Father's Day Suntory will present a special package for the new Hibiki 12 years bottle of 500 ml, and all whiskies will be sold wrapped in beautiful japanese foulards. With this event Suntory tribute to all fathers but also his own father Shinjiro Tori, who founded in 1923 the first whisky distillery in Japan : Yamazaki.
For the second consecutive year, Suntory organized animations in several french outlets to promote the japanese art of giving through the tsutsumu: the ancient tradition of wrapping a gift. In every shop participating to this event your bottle of whisky or your package will be sold wrapped in a furoshiki (japanese foulard) tied in the traditional way in front of you.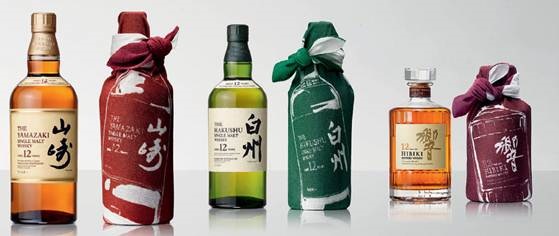 The creation of these furoshiki was given to the japanese illustrator Shinsuke Kawahara, who proposed to paint the colors of Suntory whisky. Each whisky has a foulard in a different color, red for Yamazaki, green for Hakushu and purple for Hibiki.
But it's also an opportunity to formally introduce the smaller version of its multi awarded-winning blend, the Hibiki 12 years, in a beautiful precious wooden box where you will find the bottle with a usuhari (japanese glass blown with mouth), known for their extreme fineness such that you will forget the presence of the glass.
More information:
Package Hibiki 12 ans 50 cl : 60,00 euros TTC
Bottle of  Hibiki 12 ans 50 cl : 44,90 euros TTC
The package will be available from june and event in shops will be held june 14 and 15 at selected wine shops, and Lavinia, La Grande Epicerie de Paris, Publicis Drugstore, Nicolas and Julhès.
The Wednesday 15 May 2013 at 16h17