Suntory unveiled a limited edition of its Hibiki 21 years in his famous bottle specially redecorated for the occasion.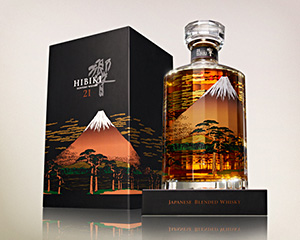 Created in 1989, the Hibiki blend made ​​famous by its appearance in the movieLost in Translation, is considered today as one of the best in the world. To pay tribute to Fujisan or Mount Fuji (富士山), the highest peak in Japan at 3776 meters high, Suntory will release on march 25 a limited edition of 2000 copies of the Hibiki 21 year old whose bottle with 24 facets representing 24 seasons of the japanese lunar calendar was redecorated with a painting of Mount Fuji at sunset.
Only available in Japan, the Hibiki 21 year old Mount Fuji limited edition will be sold for a reasonable price of 30,000 yen (about 212 €).
The Thursday 23 January 2014 at 20h44