A limited edition of an almost brand new japanese whisky will be available in Japan from august 6th. Mars Maltage name "The Revival 2011" is meaning the rebirth of Mars Whisky, a rather confidential japanese whisky brand which most famous expression is a single malt sold under the name of Mars Maltage Komagatake.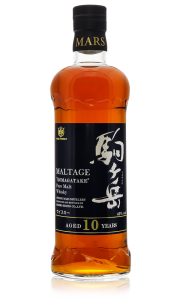 Created during Shinshu distillery founding in 1985 by Hombo Shuzo, a shochu maker based on the island of Kyushu in Kagoshima Prefecture, Mars Whisky has a unique know-how inherited from an occasional whisky production unit started in 1953 in Yamanashi distillery where pot stills designed by Kiichiro Iwai were directly inspired by the information retrieved from Scotland by Masataka Taketsuru founder of Nikka Whisky.
Located in Nagano Prefecture at 798 meters above sea level near the village of Miyata and enjoying pure filtered water sources for centuries through layers of granite mountains surrounding the site, Shinshu distillery produces whisky during winter months and gives way to the production of shochu and other brandies the rest of the times. Aged in sherry, brandy and bourbon casks, Mars whiskies are affected during aging by the harsh winters of the region where temperatures can drop to -15 ° C.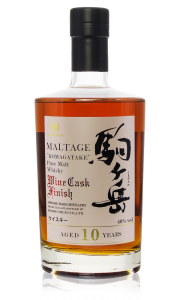 For the record, this is truly a renaissance since in 1992 with weakening whisky sales in Japan, Hombo Shuzo decided to stop malt distillation activities in favor of shochu and brandies production most profitable, until 2011 with restoration of the Shinshu distillery, where the decision was taken to formally restart production of whisky. Hence the symbolic name of "The Revival 2011" for this limited edition to only 6000 bottles, and the small amount of Mars Whisky sold in the market, which the most easy to find is the single malt Mars Maltage Komagatake 10 year old, also available in a version refined in wine casks.
Distilled in 2011 and bottled in 2014 at a rather high volume of alcohol (58%), the new single malt Mars Whisky is only 3 year old, and was vatted by Koki Takehira, master distiller of Shinshu, from slightly peaty whiskies (8 ppm) and exclusively aged in american oak barrels, the famous bourbon casks.
Currently only available in Japan, Mars Maltage "The Revival 2011" will be sold 10800 Yens, a price to the height of a revival. With the launch of this new single malt and restarting the distillation of malt in Shinshu distillery, Mars Whisky clearly stated its willingness to return to the japanese whisky market.
The Tuesday 05 August 2014 at 15h59