Mars Whisky presents the second single malt Komagatake of the Nature of Shinshu series ; Kohiganzakura which pays tribute to the cherry blossom of the Nagano region.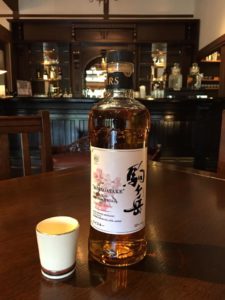 After inaugurating the Nature of Shinshu series by Japanese gentian and its single malt Komagatake Rindo, Mars Whisky finally unveiled the second edition Kohiganzakura available in Japan since November 21st.
This new whisky is a blend of slightly peated single malts distilled in 2013 at the Shinshu distillery, part of which has been aged in ex-Japanese wine barrels that have been used to aging the wines of the Yamanashi region for around twenty years.
Bottled in 2016 at 52% abv, Mars Komagatake Nature of Shinshu Kohiganzakura as its name indicates, pays tribute to the Japanese cherry blossom of the Nagano region with a specially created label by artist Yoko Nomura.
This new Mars Whisky single malt is on sale in Japan at a retail price of  ¥ 8,964 (taxes included).
The Tuesday 22 November 2016 at 22h33