Nikka continues the celebration of the 80th anniversary of its creation with presenting a tribute to the legendary couple formed by Masataka Taketsuru the founding father, and his scottish wife Rita Cowan. Specially for the occasion, Nikka has unveiled two limited editions : the famous blended malt Taketsuru 21 version unchillfiltered and a special 30 year old vintage of an apple brandy named Rita.
Revealing these two exclusive bottling, Nikka honors couple with two spirits with rather complementary characters. On the first hand a whisky, and more specifically a mixture of Yoichi and Miyagikyo single malts, on the other hand an apple brandy aged thirty years in oak casks.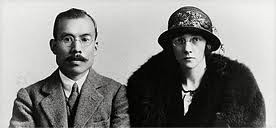 The Taketsuru 21 year old, mature and complex, embodies the strength of character of the young chemist globetrotter who alone imported in Japan all the know-how of Scotland during a distillation training period, in which he will meet the young and seducing scottish Rita.
The apple brandy Rita is rather fruity and softer, but also deep by its maturity, and symbolizes perfectly the feminine subtlety characterizing the wife of Masataka.
The apple brandy is not an insignificant choice but rather a nod to the early history of Nikka when the company was called Dai Nippon Kaju meaning "large juice factory" and produced apple juice, cider and apple brandies in addition to the first productions of whisky.
These two exclusive spirits will be available in Japan from july 2, 2014 in very limited quantities : 3,000 copies for the Taketsuru 21 year old Non-Chillfiltered, and only 1000 for the Rita Apple Brandy 30 year old.
As its name suggests, this whisky is non chill filtered and therefore displayed a relatively high alcohol content of 48 % abv. However this non chill filtration provides a richer texture and deeper flavors that makes this Taketsuru so specific. Rita Apple Brandy wisely waited 30 years before being bottled this year with a standard fruit spirits volume of aclohol (43 %).
Prices remain reasonable regarding rareness of both products with no more than 30,000 yen (about € 216) to have a chance to taste apple brandy, and nearly 18,000 yen (about € 129) for a special version of one of the best blended malts in the world.
The Saturday 28 June 2014 at 16h41