Except the recent announcement of The Chita single grain official release on the European market, Suntory hadn't yet revealed anything new in 2017. But the year is saved thanks to the release of a 18 year old limited edition of  the famous Yamazaki Mizunara single malt.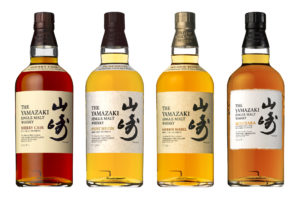 For several years, Suntory regularly released a world wide renowned "Cask Collection" (Mizunara, Sherry, Bourbon Barrel and Puncheon) made up with Yamazaki single malts, whose peculiarity is to be aged in a single barrel type.
Unlike this 2017 edition, the previous versions of Yamazaki Mizunara didn't have an age count and were mostly composed of rather young single malts.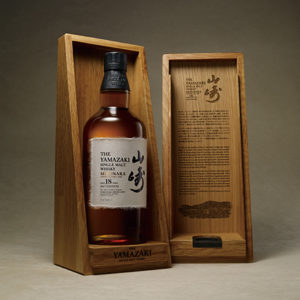 This year Suntory created the surprise by unveiling an 18-year-old version of the Yamazaki Mizunara limited edition.
To recall, an age account indicated on a spirits means that it is composed of a blend of spirits of which the youngest are at least 18 years old.
And to bring maturity, depth and complexity to the blend, Shinji Fukuyo, Chief Blender of the House, even added a small amount of a single malt exclusively aged for 50 years in a Mizunara cask !
These barrels made in Japan are very rare because they are made from Mizunara wood ; the endemic oak trees species of the archipelago. They provide a unique world renowned flavor characteristic of Japanese whisky.
After the end of Second World War, Yamazaki distillery couldn't easily obtain barrels from Europe or United States, prompting Suntory to make its own barrels from Japanese oak. However, Mizunara wood is very difficult to work and these emergency drums didn't have a great reputation. Yet as the years go by, with aging coming into play, Japanese oak has proved to be wood rich in spicy flavors.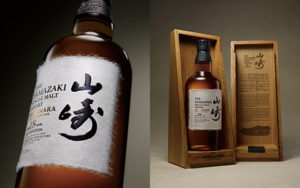 For this exceptional single malt, Suntory has chosen an Echizen paper label elaborated according to the Japanese tradition for almost 1500 years. This paper is made of 100% cotton to reproduce the original expression and depth of Japanese paper.
Yamazaki Mizunara 2017 is presented in a sublime cabinet box made in oak coming from old barrels used for aging Suntory whiskies.
In this period of shortage of Japanese old whiskies, Suntory has nevertheless been able to create an exceptional single malt whose release in Japan is scheduled for October 3rd. Only 1500 bottles were bottled at 48% ABV meaning unchill filtered, and will be available for purchase for the "modest" amount of 100,000 yen (about 760 €). In spite of this price, the bottles will quickly tear away because it's a brand new edition.
The Saturday 23 September 2017 at 17h12