It's been six years since the Japanese department stores Shinanoya didn't work with Suntory for an exclusive whisky bottling. The "Wa-Kyo" is therefore an ultra expected new limited edition that Shinanoya had "officially" released this weekend.

"Officially" because in reality the 539 bottles have all been pre-ordered and are unfortunately no longer available for sale as stated in the Shinanoya's website. It seems that most of the happy future owners of this exclusive Japanese whisky had the opportunity to reserve their bottle at the Suntory's stand during Chichibu Whisky Matsuri festival 2015.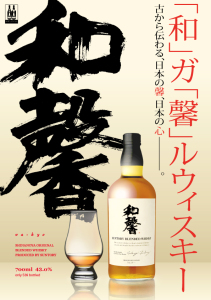 As usual a few secrets about the composition were unveiled. It would be a blended work around old Mizunara casks from Yamazaki distillery including a 1984 vintage, bottled at 43% and sold only in Japan for 39,852 Yen all tax included, but we won't learn more about it...
The "Wa-Kyo" was created by the Suntory's Chief Blender Shinji Fukuyo, who also created some of the last releases such as the famous Yamazaki Cask Collection, the Yamazaki 1984, the Distiller's Reserve, the Hakushu Bourbon Barrel and Heavily Peated, and much more..
And to pay tribute to his work, Shinanoya decided to call a famous Japanese calligrapher Master Shoshu in order to design the bottle label.
Unfortunately, we will never have a chance to taste this delicious limited edition strongly marked by the wood of the Japanese Mizunara oak.
To comfort us, Shinji Fukuyo describes his "Wa-Kyo" as soft, sweet and intensely spicy, with notes of malt, grain and honey. Also very marked by the Mizunara wood with spicy notes of incense and cinnamon, and will leave you with aromas of pepper in its long and smooth finish.
The Saturday 28 February 2015 at 20h12