Officially announced a few days ago by Suntory, Yamazaki Sherry Cask will be released in a 2016 limited edition for the least highly expected !
Crowned with the title of "Best whisky in the world" for the year 2015, Yamazaki Sherry Cask 2013 had caused a stir and is still the subject of delirious speculation (especially when we know the seriousness of the relative author behind this title).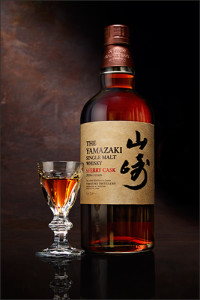 For this new edition of 5000 bottles (including 1500 for Japan), Suntory and its Chief blender, Shinji Fukuyo, decided to surf the incredible success of the 2013 edition. As well as all Yamazaki Cask Collection limited editions (made from only one type of casks) such as Mizunara, Puncheon or Bourbon Barrel, Sherry Cask 2016 has been made from single malts exclusively aged in Spanish oak casks, the famous Sherry Casks that previously served to age white wines of Spain.
This mix includes a wide variety of single malts including some 25 year old sherry malt, all carefully selected by Suntory Chef blender for their taste but also for their specific colors. Shinji Fukuyo involvement in the creation of this new edition of Yamazaki Sherry Cask 2016 is total, he even traveled to the "Bodegas" from northern Spain to select himself Oloroso wine barrels that served in aging Yamazaki sherry single malts.
Bottled unchillfiltered at 48%, according to Shinji Fukuyo this single malt was not created for novices, but it was composed for Suntory whisky lovers. In other words, it's a whisky to open and taste to appreciate all the work of its creator and not to keep in collection for possible further speculation on the price.
The release is scheduled for February 2 in Japan, no doubt that bottles will gather out in days in shops that can be provided, quantity will most likely be limited to one bottle per customer by the way, despite its high selling price of 38880 yen including all taxes, which is also justified by the creation of an attractive label made in traditional Japanese paper.
The European release has just been announced, but as 1,500 bottles of 5000 are allocated to the Japanese market, it can be inferred that the rest will certainly be shared between the European, Asian and American markets, and therefore may a few weeks or months before being available abroad. Let's be patient !
The Thursday 14 January 2016 at 22h57