If you are fan of japanese whisky and you would like to discover products exclusively reserved for the japanese domestic market, good news, no need to go there, Uisuki.com the european dedicated online shop just opened a new section called "Direct from Tokyo", which propose a selection of products only available in Japan and coming from all the distilleries of the archipelago !

On the nine distilleries currently operating in Japan ( Yoichi and Miyagikyo for Nikka, Hakushu, Yamazaki and Chita for Suntory, White Oak for Eigashima, Shinshu for Mars Whiskies, Fuji Gotemba for Kirin, and Chichibu for Ichiro's Malt), only 6 are available and easy to find in Europe.
Indeed as pointed Frédéric de Francqueville co-founder of Uisuki.com, "Except when traveling on the japanese archipelago, it is rare to have the opportunity to taste the whiskies produced by Hombo Shuzo under the Mars Whisky brand or even productions of the yet well known Kirin society, famous in Europe for its beer".
Through its "Direct from Tokyo" selection, Uisuki.com gives access to these products to all european consumers. Due to its unique positioning, the online shop had to offer whiskies from all producing distilleries in Japan. As explained Nicolas Rua, other co-founder, "Every month we go to Tokyo to select and bring a small amount of bottles theoretically reserved for the japanese market only. This is an opportunity for japanese whisky fans, which are in demand for this type of rare products, to taste brands that can not be exported outside of Japan but also to give them access to limited editions only available locally. "
To open this new offering, the two founders have immediately thought about Shinshu distillery whiskies sold under the brand Mars Whisky. Therefore the new single malt Komagatake "The Revival" 2011 (available in Japan since early August 2014) and Mars Maltage Komagatake 10 year old are now available in Europe. Uisuki.com now offers the opportunity to find Japanese whiskies recently released and reserved for the domestic market !
The "Direct  from Tokyo" selection will grow over time with japanese market new releases. The online shop presents 2 types of offers for these products rarely appearing in Europe ; some will be offered by sale event in small quantities and without replenishment, and others also available in small quantities but whose stock will regularly be renewed.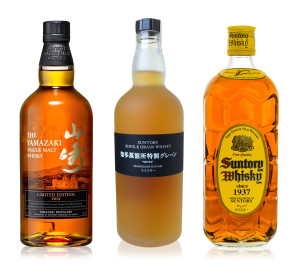 New products will regularly be sold, and "Direct from Tokyo"  selection offer will be soon including Yamazaki Limited Edition 2014, the only single grain of Suntory named Chita grain, but also recently awarded whiskies (ISC 2014 golden medals) from Fuji Gotemba distillery with the Fuji Sanroku 18 year old single malt and Kirin Tarujyuku 50° blended whisky.
After almost a year of existence Uisuki.com held its bid to become today the dedicated online shop offering the largest choice of japanese whisky in Europe, and that's a very good news for all fans who can not move to Japan !
Note: To recall, the founders and writers of Japanese-Whisky.com are also the creators of Uisuki.com.
The Friday 26 September 2014 at 17h14