Distilled the last weekend of april and matured for more than a month, here's a small photo album of our trip to Osaka. In our cask #01 a selection of exclusive, rare or vintage bottles that we could see, taste or buy during our stay.

Due to our tight schedule, we could only take one day to walk by the streets of Osaka and looking for tbottles to bring back home.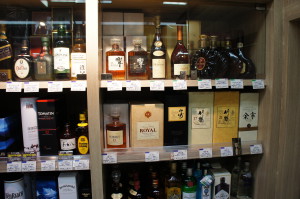 And that day we learned a few lessons, first one finding  japanese whisky is not difficult. You can buy it in any supermarket or grocery around the corner.
However, and this is the second lesson, find an original whisky is another story, you will have to go to department stores, wine shops or directly to the Yamazaki distillery.
And finally the third lesson, exept for the entry-level and a few references you won't make any particular economy (except in the duty free at the airport) because in Japan whiskies are almost the same price as in France.
The majority of bottles sold in Japan are entry-level whiskies reserved for the domestic market such as the Suntory Torys and Kakubin, Nikka Rich Blend and no age statement single malt Miyagikyo and Yoichi or the blend Kirin whisky 50 ° and other Akashi blend of White Oak.
Most specialty shops offer references that are available in France as the Nikka and Suntory base whiskies, but also some Ichiro's malt. And for example we didn't find any Karuizawa, Hombo Shuzo March or not even the Fujisanroku 18 Kirin.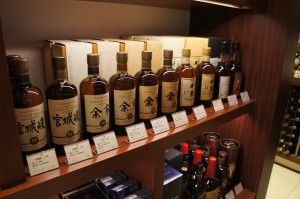 For information, in Japan Suntory group could be compared to Pepsi group, and has significant financial strength, which leads to over-representation of Suntory whiskies at the expense of Nikka. In France, it is quite the opposite with a higher reputation for Nikka.
But over the years and through my trips to Japan, I noticed that Nikka whiskies took a more important place in the domestic market with a wider distribution of the Miyagikyo and Yoichi base whiskies. While in the French market Suntory recently started to catch on Nikka.
Here are some pictures of the bottles that we met, bought or tasted during our stay.
All exclusive bottles by their rarity, originality or their list of awards that we could see or taste in the Isetan department store or even to the Yamazaki distillery.
From entry level whisky found at the local supermarket as Kakubin, to limited whisky available at the distillery as the Yamazaki Heavily Peated, here are some bottles that you can only get in Japan. To be precise the three Ichiro's pure malt are available in Europe. And at the end of the album, a photo of a barley shochu which is not whisky: the King whisky.
In this album, some Suntory vintage bottles all visible in the Yamazaki distillery museum. You can see many Torys, whiskies that have built the reputation of Suntory in Japan and especially after World War II during the boom in whisky bars "Tory's bar."
The Thursday 13 June 2013 at 16h46