In Japan, a bell foundry in the Takaoka region has diversified into creating a still for distilling whiskey and other spirits, designed using the traditional mold-casting method inherited from centuries of know-how.
Just like the basic ingredients or the casks, the still is one of the essential elements that forge the aromatic character of the future whisky. They are made of copper and come in various sizes and shapes. Oigo, manufacturer of Bonsho bells, has reused traditional foundry skills to make stills.
Simple and robust in design, Zemon is a modular alembic available in 3 capacities : 2200, 3800 and 4500 liters. Made of a copper-tin alloy containing approximately 90% copper and 8% tin, it contributes to the production of high quality spirits through the combined effects of copper and tin (a metal reputed since antiquity to soften the taste of alcohol).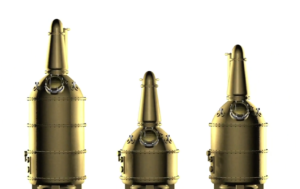 Like the Bonsho, the famous bells of Buddhist temples, the Zemon still is produced by casting and molding. It has surface irregularities due to the sand molds that increase the contact area with the steam and maximize the effect of the copper and tin.

In addition, because copper-tin alloy has a low thermal conductivity (about 1/8 that of pure copper), and is cast with a thick wall, heat escapes less easily from the Zemon pot still during distillation. As a result, compared to conventional stills, the amount that can be distilled using the same energy is increased by 188%, representing a high energy efficiency.
Two Zemon pot stills were installed in 2019 at the Saburomaru distillery founded three years earlier by Wakatsuru Shuzo in the Hokuriku region, so it will be a while before we have the opportunity to taste whisky distilled in these atypical Japanese stills.
The Tuesday 09 March 2021 at 19h04