Young and small, Chichibu distillery produces mature whiskies despite of their young age. Port Pipe is no exception to the rule, and it's very intriguing with its pink color!
Ichiro Akuto, grand-son of the Hanyu distillery founder (closed in 2000), decided in 2007 to build a new whisky distillery in Chichibu city, 100 kilometers northwest of Tokyo. The accumulated over time expertise transmitted by his grandfather, allows him to produce surprisingly complex whiskies despite their lack of maturity.
Officially presented on 25 March, Chichibu Port Pipe 2013 is a new expression of Venture whisky (company created by Ichiro Akuto which bottles every whiskies from Chichibu plus all remaining barrels of  Karuizawa, Kawasaki and Hanyu). Port Pipe 2013 is sold under the brand Ichiro's malt, and only 4,200 bottles were released, all bottled cask strength (54.5% ABV)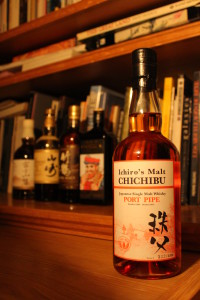 Now you're wondering why Port Pipe ? And why this pinky colour ?
The answer is quite simple, the port pipe is a european oak cask with a capacity of 650 liters, which is one of the biggest barrels used in the whisky industry, and it served for the maturation of Port wine. Ichiro Akuto bought some for the maturation of this whisky. Distilled in 2009, the Port Pipe was at first put 3 years in quarter casks (oak casks with a capacity of 50 liters), then was put into port pipes for a further maturation (one year) before being bottled in 2013. The rest of the production continued its maturation in quarter casks, and was bottled at the same time under  the name of Chibidaru.
So it's during the complementary maturation in port pipe that it will soak shades of pink left by the Port wine but also some flavors that make it a very amazing whisky.
Unfortunately it's almost impossible to find one in Japan, and therefore non-existent in the world. We had the chance to enjoy it thanks to our friend Hervé, a very good whiskies amateur and coming back from a trip to Japan!
Now let's taste the Chichibu Port Pipe bottle #322, directly from Japan!
Review by Nicolas
Color
Very surprising but the Chichibu Port Pipe is almost pink ! Its colour is like french pink wine.
Nose
The first aromas to emerge are fruity with a bit of strawberry, cherry and woody hints of honey and grain. A very nice and very "sweet" bouquet of aromas.
Palate
On the palate the whisky is very alcoholic, quite normal for a "cask strength" bottled at 54.5%. I put mineral water for the second tasting to slightly lower the alcohol level.

Now flavors can be expressed more clearly and it's still fruity but more like citrus or grapefruit. It's highly developed in flavors despite its 4 years old, almost as complex as a more mature whisky with notes of orange bitter and english fruit cake at the end.

For the body, nothing wrong, it rolls in mouth and the texture is pretty gross.
Finish
Long finish with citrus and grapefruit disappearing gently to let the woods and honey coming back.
Opinion
So young and yet so amazing ! In the Chichibu Port Pipe you can feel all the Ichiro Akuto's love and passion for whisky. Unfortunately it's rare and limited to the domestic market, if you get a chance to find one, take it eyes closed!
The Friday 24 May 2013 at 17h07