First tasting for Japanese-whisky.com, and actually for us the very first tasting of a Karuizawa ! It will be the Karuizawa Tokyo International Bar Show 2012. It was during this event that was bottled the cask #2565 containing a mix of the last 1999 and 2000 barrels of single malt distilled in Karuizawa (now closed).
After the closure of Karuizawa distillery, Number One Drinks (on behalf of an asian firm) decided to recover the last few hundred casks and moved them in Chichibu, a new  japanese  distillery founded by Ichiro Akuto (founder of Venture Whisky). It is therefore, the Chichibu's master blender who selected and "vatted" together some 1999 and 2000 remaining casks and then put them back in a "marrying cask" for further maturation. Only a small number of these have now been bottled at "cask strength" (natural alcoholic degree of the barrel).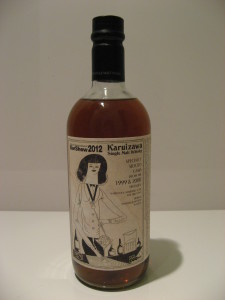 I've been waiting for a while to taste my first Karuizawa ! A whisky collector offered by my friends Hervé, Alexandre and Frédéric for my birthday.
Shipped in an elegant and sober carton case signed by Number One Drinks Company (european distributor of Venture Whisky), the transparent bottle is decorated with a nice label specifically created for the Tokyo International Bar Show 2012. It's a black and white drawing representing a barmaid preparing an "ice ball" whisky. This is indeed one of the Japanese whiskies specific aspects : being original in both flavors, labels and bottle shapes.
Now let's open the bottle and taste it !
Review by Nicolas
Color
In direct light the Karuizawa has an amber color with orange reflections but looked at indirect light it will seems even darker with a reddish hue to almost look like the a porto wine.
Nose
The first aromas are rather fruity with pear, baked apple and dried fruit. After stirring the whisky other flavors appear like caramel and beeswax. A very complex bouquet despite his young age. I would classify it in the whisky aromatic family "sweetmeat".
Palate
On the palate the flavors are blended to give a predominant pastry hue with baked apple pie, honey and a small side of french liquor Calvados that I particularly appreciate. This is a whisky with a round and smooth texture, very pleasant on the palate despite its bottling "cask strength" without reducing the level of alcohol. Grading 61.6%, I diluted during the second tasting with drops of mineral water to make it a little less "alcoholic" and reveal new powerfull aromas.
Finish
A long finish, very soft, which surprises with new flavors such as pepper, cedar, pine and dried apricots. It's a rather spicy and woody mark that the Karuizawa International Bar Show 2012 will left you in mouth.
Opinion
I am very pleasantly surprised by the aromatic complexity of this single cask double vintage despite his relatively young age. It is a perfectly balanced whisky, with its seductive palette of aromas and I would definitely recommend it to all Japanese whisky fans !
The Wednesday 13 March 2013 at 15h38