The latest Suntory's whisky release is available in Japan since March 2015. We invite you to discover our Hibiki Japanese Harmony tasting experience.

As we already announced in a previous article, Suntory unveiled a new blended whisky that integrates the Hibiki's permanent range and will probably be in the future the only representative of the family whose famous older versions of 12, 17, 21 and 30 year old become increasingly rare and difficult to get due to the depletion of stocks of old whiskies (more information on the situation of whisky in Japan).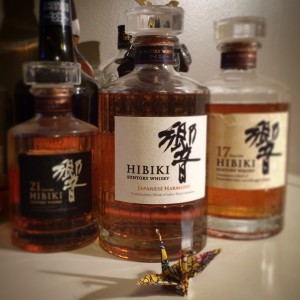 This inexorable depletion pushed Suntory to develop its permanent range by incorporating the Yamazaki and Hakushu Distiller's Reserve created by Shinji Fukuyo chief master blender of the house, which are a blend of old whiskies vatted with very expressive young whiskies called "young talents".
Just like both Distiller's Reserve, Hibiki Japanese Harmony is probably a blend work of "young talents" and older malt whiskies aged in different type of casks, vatted with grain whiskies. Of course we will keep you informed as soon as we get more information about its composition.
From a visual standpoint, this new expression proudly represents the family with the now famous 24 facets bottle, labeled with a traditional paper label with Hibiki written in a beautiful Japanese calligraphy. No doubt, this is indeed a true Hibiki, one of the most awarded blended whisky in the world.
Now let's check if this Japanese Harmony is definitely a pure Hibiki, by tasting this new release. And just by opening the bottle, we guess we will not be disappointed! Kanpaï!
To make up your own mind, find the Hibiki Japanese Harmony on Uisuki.
Review by Nicolas
Color
Pretty light amber color.
Nose
Extremely intense sweet smell announcing a nice complexity in the mouth. A seductive fruity sweetness of strawberry, ripe melon, plum and cherry clafoutis. In the background some fresh notes of fir probably coming from grain whisky.
Palate
The texture is round, sweet and slightly oily, which gives a real sense of depth. The fruity aromas are confirmed on the palate with the appearance of orange and candied apricot but also pear and malted cereals. A discreet touch of mint reveals itself as tasting is in progress.
Finish
The Japanese Harmony leaves a fine fruity bitterness that disappears in a spicy cloud of pepper.
Opinion
Hibiki lovers will not be disappointed at all ! Japanese Harmony is a whisky that trully carries the DNA of its family. By mistake, it could be considered as an entry level while in fact it is a true masterpiece of blend work that stands well above non-aged Japanese whiskies sold on the market. It will meet undoubtedly a huge success in Europe and unlike older versions, it should be permanently available.
The Saturday 16 May 2015 at 20h46