Exceptional whisky, the Suntory Yamazaki 25 year old is the epitome of the art of japanese whisky. It was during our visit to the Yamazaki distillery in april that we could taste for the first time this legendary single malt.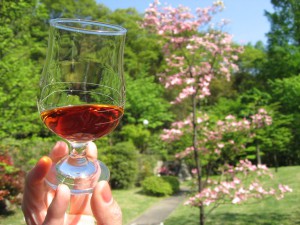 For me it was an unforgettable experience, in part because we were at the very heart of the distillery and secondly because it's the most expensive and also the best japanese whisky I've had chance to taste. And during the presentation in London Yamazaki boxes created by Bill Amberg, I could once again enjoy the Yamazaki 25 years and relive the unforgettable experience that I will share with you.
Especially enjoying whiskies aged in Sherry casks, I really felt in love with this whisky almost exclusively composed with single malts aged at least 25 years in Xeres wine casks. Produced in Yamazaki, the first Japanese whiskey distillery founded in 1923, this single malt is a blend of high quality expressing the Suntory philosophy and know-how. But stocks of Yamazaki very old single malt is reducing and the price of this version has recently jumped making it today one of the world's most expensive whiskies.
Now let's taste it !
Kanpaï !
Review by Nicolas
Color
A beautiful, dark amber color is achieved through the long maturation in sherry casks.
Nose
The nose is developing lots of flavors, but mostly a very strong "sweet" tone. Initially fruity notes of strawberry, pear and citrus express and give way to wooded and slightly smoky flavor, wrapped in a fine note of honey.
Palate
The complexity is also expressing in the palate with still in first the fruity flavors, then the wooded and ripe fruits ones such as quince. The texture is very balanced, rich, round and very smooth, it's almost a "soft." whisky.
Finish
A long final to finish in style this experience with the gradual disappearance of fruit and bitter notes appear due to a small amount of whisky aged in mizunara casks in the composition of this single malt. Then notes of hazelnuts, roasted cocoa and pepper softly appear.
Opinion
The Yamazaki 25 year old is by far my favorite single malt, perfectly balanced, complex, rich and full of the typical aromas of whisky aged in sherry casks. Despite its unreasonable price, I would gladly recommend to taste this sublime whisky which marries beautifully with a square of 70% pure cocoa chocolate.
The Wednesday 16 October 2013 at 18h32