Edition limited to 3500 bottles, the Yamazaki Heavily Peated 2013 is a highly peated version of the famous single malt Suntory. A first edition also non-aged output in 2012 was a huge success, just like those of Hakushu. Unfortunately only available in Japan and these limited versions are nevertheless high quality whiskies that could attract many european fans of japanese whisky.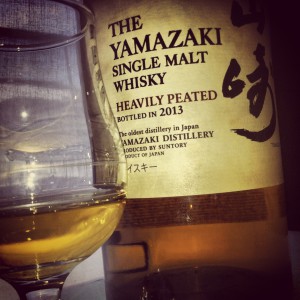 Located between Kyoto and Osaka at the foot of green hills, the Yamazaki distillery was founded in 1923 by Shinjiro Torii, founder of Suntory, and was the first malt distillery in Japan. The quality of its single malts is now recognized around the world and contributes to the japanese whisky world-renowned, winning numerous awards at international competitions.
The distillery doesn't usually produce peated whiskies, but rather fruity whiskies. The Yamazaki Heavily Peated 2013 becomes a very interesting product that will express all the know-how of Suntory master blenders to create a peated version, but still characterized by the typical signature of the Yamazaki single malt. Made from very peaty malted barley and bottled at 48% volume, this whisky has a well said despite his immature character.
Now let's taste this bottle directly bring from the distillery.
Kanpaï !
Review by Nicolas
Color
A beautifull and strong gold colour.
Nose
The heavy peat is coming first with shy hints of citrus and dry fruits in the background.
Palate
The intense peat is more salty in the mouth than in the nose and the fruity flavors caracteristics of the Yamazaki single malts, is still present. But you can also find shy notes of cereals due to its lack of maturity.
The texture is round and soft despite the high level of alcohol.
Finish
The finale is soft and not too short, not too long, quite average. The peat slowly disappears while the cereals aromas continues till the end.
Opinion
The Heavily Peated 2013 is a very good peaty single malt which proudly express the Yamazaki's signature. The only two bad points we could find are an availability only in Japan and a price a little bit to expensive for a non aged version.
The Friday 13 September 2013 at 14h58