The Suntory Hibiki is probably the most famous japanese blend, but especially one of the most rewarded with no fewer than five gold medals won at international competitions, just for this 17 year old version that I propose you to discover.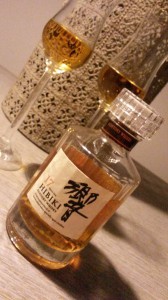 Created in 1989, the Hibiki is a blend of single malts from Yamazaki and Hakushu with grain whisky from Chita distillery, it was made ​​famous in particular for his appearance in the 2003 film "Lost in Translation" by Sofia Coppola, but also for its beautifull bottle with 24 facets representing the 24 seasons of the japanese lunar calendar.
Bottled at 43% ABV, Hibiki is available in four aged versions ; 12, 17, 21 and 30 year old, but at the begining it was proposed in no aged version but there are also a few copies of an ultra-limited release of a 35 year old bottled in a gorgeous bottle of japanese porcelain.
Without further ado, I propose you to share my experience of tasting Hibiki 17 year old version composed of single malts and single grains aged at least 17 ​​years, nice program perspective!
Kanpaï !
Review by Nicolas
Color
Beautiful golden light amber color due to a small percentage of single malts aged in sherry casks.
Nose
Many flavors are expressed in the first smell with pear and quince and a shy hint of caramel and almond. But in general, this is a whisky rather "sweet".
Palate
In the mouth it is still a sweet universe but with hints of strawberries then pear and caramel. But I am really surprised by the maturity and complexity of the Hibiki 17 year old.
I liked the rich and round texture, and the low level of alcohol (43%) make it pretty sweet.
Finish
Long and powerful finish with the appearance of typical notes of grain whiskies such as corn syrup and until the end a fruity bouquet with a predominance of strawberry and baked apple.
Opinion
This 17 year old version of Hibiki is up to my expectations. It's a safe bet for a reasonable price. Older whiskies are becoming more and more rare in the range of Suntory, it is time for you to taste it before it's too late if you haven't already done !
The Thursday 20 February 2014 at 17h56