After a little more than 4 years of waiting, Mars Whisky finally unveils the very first single malt entirely distilled and then aged in Tsunuki, the second malt distillery of the Hombo Shuzo group.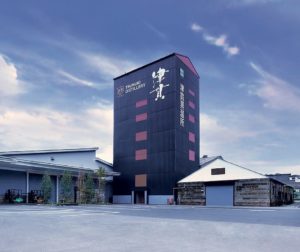 Mars Whisky has decided to establish Tsunuki on the island of Kyushu in the south of Japan, more precisely at the end of the Satsuma peninsula famous for its mandarins and the quality of its spring water. The climate of the region is marked by large temperature differences between winter and summer, accentuated at the distillery due to its location in the basin of the Kasedashi River.
Benefiting from a very hot climate in summer and good water resources such as the source of Kuraoku Mountain, Tsunuki is located in the cradle of Hombo Shuzo where the story began with the manufacture of shochu more than 100 years ago.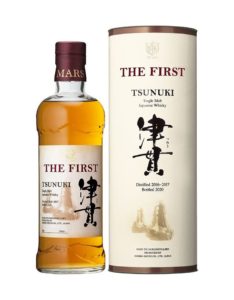 Tsunuki started the distillation in November 2016 as we mentioned in a previous article. For this very first whisky, the single malts selected for blending were aged for at least 3 years in ex-Bourbon casks, and 9984 bottles in total could be bottled at 59%, a rather high reduction allowing the expression of a greater variety of aromas. Unfortunately victim of its success, it is already almost impossible to find it at most specialized retailer.
If the teams of the Tsunuki distillery are as efficient as those of Shinshu, we can expect to see in the very near future many creations with in particular a peaty version of the Tsunuki Peated already planned for January 2021 and a 4 year old single cask bottled exclusively for the 2020 edition of Whisky Live Paris.
As part of its experimentation on the influence of climatic conditions on aging, Mars Whisky also took advantage of the empty space in the new cellars to age casks of the famous Komagatake single malt distilled in Shinshu and will offer a range of limited edition vintages in 2016: Mars Komagatake Tsunuki Aging 2016, 2017, 2018, 2019, as well as exclusive versions of Mars Komagatake Double Cellars, whose blend over the years is a mixture of casks aged in Shinshu, Tsunuki and Yakushima, another maturation site of the group benefiting from a particular climate.
With the first single malt from its second distillery, Hombo Shuzo is realising its ambition to establish itself as a major player in the world of Japanese whisky, thanks to its age-old experience in the production of spirits. And the story has only just begun...
Source : Official website Mars Whisky - Hombe Shuzo
The Friday 17 April 2020 at 18h18