Tsunagu blended whisky is the first Mars Whisky limited edition specially bottled for the japanese department store Isetan. During our last visit to Tokyo, we could enjoy this new whisky, available since 1st of October, confirming the will of Mars Whisky to be back into the japanese whisky market.
Japanese department stores are an institution and there are many brands such as Matsuzakaya, Mitsukoshi, Takashimaya or Isetan. Some occasionally offer exclusive whisky bottlings only available in their liquor stores. We already presented a limited edition of Karuizawa, named "The last bottling" bottled for Isetan.
The lower floors of these high places of consumption are always organized in the same way, a multitude of fine food shops gathering many famous brands, but also caterers offering all japanese food, and corners dedicated to alcohols and spirits like sake, wine, beer, whisky and other liquors.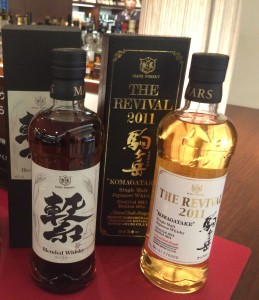 So we went to the liquor store tasting area of Isetan Shinjuku in Tokyo to taste this new expression of Shinshu distillery built in 1985 at 700 meters high in the heart of the japanese Alps, and back in activity since 2011 with the production of a new single malt Komagatake "the Revival".
The Tsunagu is the very first Mars Whisky bottling for Isetan, which doesn't exclude to do it again in the future. For this first collaboration, the team of the small Shinshu distillery created a blend composed of young slightly peaty single malts aged in bourbon casks and French oak barrels used in the aging of Japan's Yamanashi wine, and grain whisky produced on another site owned by Hombo Shuzo, owner of Mars Whisky.
Non chill filtered and bottled at 46% of volume, Tsunagu blended whisky is a limited edition of 300 copies only available in Japan in Isetan department stores, and sold for a whopping price of 7560 Yens a bottle.
Now let's taste it, Kanpaï!
Review by Nicolas
Color
Pretty amber with golden hues.
Nose
On the nose the first impression is rather sweet with fruit flavors like pear, quince and hints of red fruits. As it's opening, the Tsunagu unveils a slight smoky peat giving a discreet note of grilled bacon.
Palate
Its texture is rather round and delicious, it's nice in the mouth and develops an interesting complexity. Fruity aromas of the nose are complemented by the appearance of pastry flavors like butter and dough, with some notes of citrus, cherry and licorice. Very light smoky peat is still present in the background.
Finish
On final, the smoky peat vanishes quietly giving way to liquorice, pastry and a hint of peppermint.
Opinion
Tsunagu Mars Whisky is surprising with its complexity and sweetness, and the aromatic bouquet approaching those of single malts aged in sherry casks.
The Monday 27 October 2014 at 23h21